Ed W. Smith is your source for industrial vane pack mist extractors. Why is gas-liquid separation so important to us? Removing liquid from gas is of critical importance in the refining process. Because mixed or contaminated streams can cause damage to downstream processing equipment. Equipment damage and general velocity reductions due to contaminated flows can increase plant downtime and exponentially increase operating costs.
It is our goal at Ed W. Smith to provide clients with the highest-grade internal separation equipment to decrease their out-of-pocket costs by preventing damage and minimizing downtime. These are just a few of the potential benefits of integrating an Ed W. Smith vane pack to your industrial processing equipment:
Reduced downstream contamination
Cost savings
Maximized heat transfer efficiency
Reduced energy consumption
Lower risk of hot spots and leaks
Preventing premature catalyst changeouts
The EWS vane pack mist extractor is a proven technology. We custom fabricate each unit to fit client specifications. The EWS vane pack provides essential protection from entrained liquids.
Vane Pack Mist Extractor Technology
Traditional vane packs function on the governing principle of inertial impaction. A series of horizontal or vertically bound vanes fasten together and drop into the vessel shell. As a mixed stream of gas and liquid flows into the vessel and begins flowing through the vane pack, liquid droplets become trapped in the pockets and along the walls of the vanes. As larger droplets accumulate, the gravitational forces acting on the droplet exceed the inertial forces propelling the liquid forward. Subsequently, liquid droplets begin to separate from the flow and fall down the vanes into a collection pan located at the base of the vane pack. Liquid accumulation drains from the bottom of the unit. Vane packs remove particle sizes down to 8 microns with 99.8% efficiency and can be run at greater velocities even with higher liquid loads.
The EWS Vane Pack Difference
Our patented vane design has kept Ed W. Smith Machine Works at the forefront of the gas-liquid separation industry for decades. The EWS vane pack removes liquid particles as small as 8 microns. Because every industrial application is unique, we choose to tailor solutions exactly to our clients' operating conditions. Subsequently, our housing sizing is always optimized.
Whereas many of our commercial competitors provide clients with exposed vanes, we provide our clients with a drop-in ready vane pack and housing. It is our belief that we are here to serve you which is why we provide ready-to-use vane packs rather than leaving you to construct your own housing. Because EWS believes in providing the most complete solution. The EWS vane mist extractor comes as a complete assembly of vane elements contained in a fabricated housing custom sized and designed to meet customer specified operating conditions and each unique vessel arrangement. Additionally, all of our vane packs are constructed of American-sourced 316SS and each one is custom welded to order in our Dallas fabrication shop.
Contact us today to have your application sized and quoted. We manufacture units with fixed and removable vane elements. EWS recommends fixed vanes for most applications. Individually removable vane elements allow inspection & cleaning for applications subject to fouling.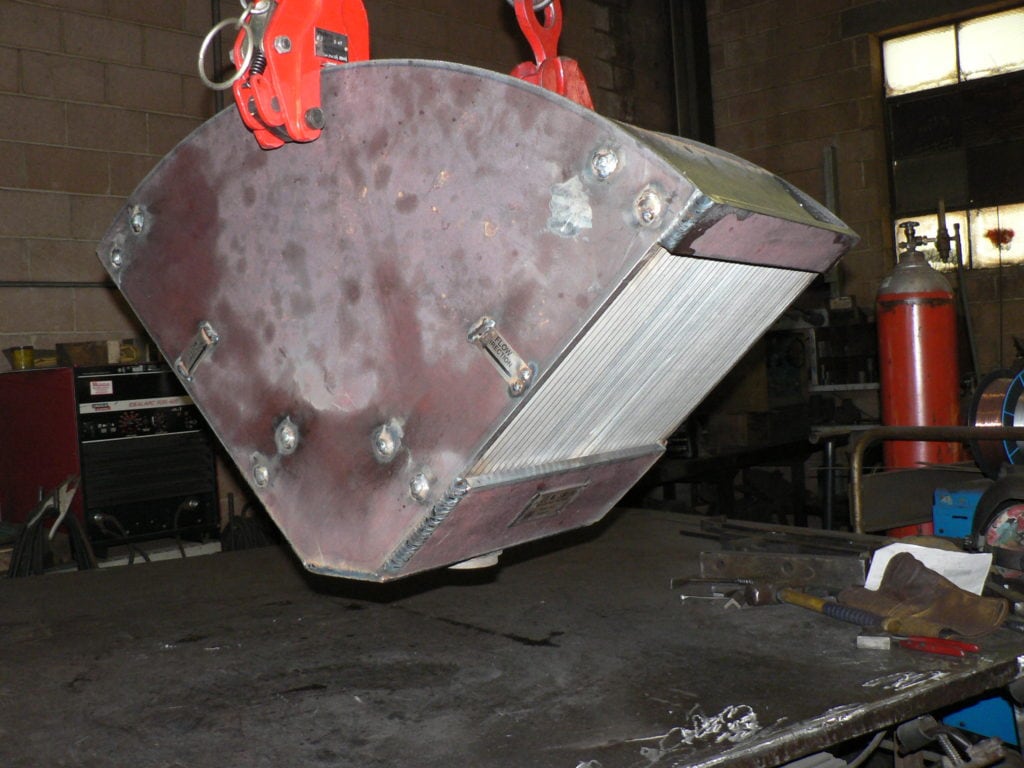 Guaranteed performance, materials & workmanship
The separation performance of the EWS vane mist extractor is guaranteed when installed into the intended vessel design under the specified operating conditions. EWS guarantees high quality workmanship and only domestically sourced materials. Additionally, material test certificates are always provided with your product. EWS applies decades of experience when developing well engineered vane mist extractor solutions for each application. Early coordination with the customer's overall separator design requirements ensures a well integrated vane mist extractor which can be readily installed at the customer's chosen vessel fabricator. Above all, you can expect high quality customer service and product support throughout the life of your product.